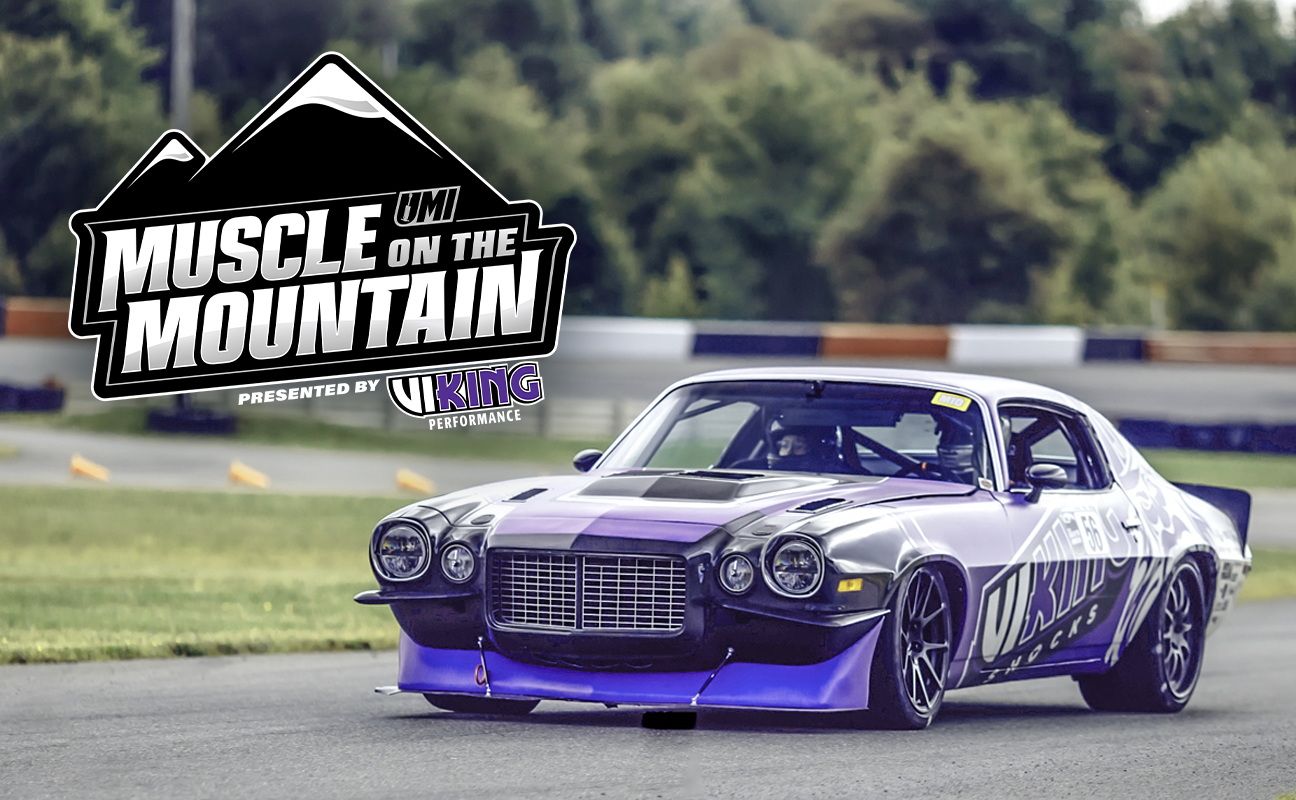 2023 Muscle on the Mountain Driver List
UMI Motorsports Park is excited to introduce a brand new event. UMI's Muscle on the Mountain is UMIMP's first Muscle exclusive event. On June 15th muscle car racers from all over the nation will gather to compete for the $15,000 purse. Champions from each of the 6 classes will also win a ticket to the most sought-after event in autocross, UMI's King of the Mountain.
Muscle on the Mountain Driver's List
Angela Payne
Bob Bertelsen
Chris Mulberry
Jared Leisinger
Josh Leisinger

Nick Weber
Ron Scott Jr
Sean Brinkley
Bill Graves Sr
Troy Dragovich

A, B and G-Body, 1st and 2nd Gen F-Body, 64-78 Mustang
Aaron Oberle
Adam Schoonmaker
Alan Schoonmaker
Andrew Ziolo
Bernie Duplan
Brad Dodd
Brian Stephens
Brian Peacoe
Brian Coney
Chris King
Chris Jacobs
Chris Smith
Christopher Wheatcraft
Christian Phillips
Chuck Trimble
Cody Puckett
Corey Williams
Dan Ballard
David Pereira
David Webb
Derek Kiefer
Don Chaffin
Doug Lutes
Eric Hjelm
Evan Duffy
James Bishir
Jason Winstel
Jeffrey Scott
John Aamold
Justin Nall
Justin Snow
Justin Yoder
Ken Edwards
Kristen Carpino
Larry Wolfe
Larry Woo
Logan Phillips
Lou Jasper
Mike Goodman
Mike Owen
Nathan Johnson
Pat Gorman
Paul Brimmeier
Rich Carpino
Rick Goshert
Sean Aldinger
Sean James
Sean Rupp
Sheryl Nall
Steve Bove
Steve Rodgers
Tim Molzen
Tom Farrington
Travis Coeyman
William Smith
3rd and 4th Gen F-Body, Fox and SN95 Mustang
Aaron Nicholson
AJ Knollman
Brian Clark
Brian Johns
Brian Ferree
Cody Ferree
Collin King
Devon Whitman
Jared Domhoff
Jared Roden
Jason Smith
JJ Mallrich
Jordan Welch
Joshua Jones
Junior Roethlisberger
Kelley Jaeger
Ken Bateman
Kenny Goodman
Mark Golovin
Michael Johnson
Michael Phelps
Mike Trenkle
Mike Cunningham
Mike Weiss
Mike Stewart
Nicholas Shaffer
Nick Young
Nick Nova
Paul VanNus
Rob Beck
Ryan King
Scott Bowers
Tara Johns
Val Pichette
5th and 6th Gen Camaro, S197 and S550 Mustang
Ben Burkhart
Chris Paveglio
Chris Brown
Jared McGahen
Jeff Darbig
Jeff Gordon

Joel Voigt
Johnny Dio
Mikey Albacete
Steven Rupp
Tim Gordon

C4-C7 Corvette, Dodge Viper
Al Robison
Albert Wurst
Alex Tziortzis
Beth Conaway
Bob Armstrong
Brendan King
Christopher Howell
Cody Vencill
David Myers
Eric Peachey
Garry Walsh
Hilary Anderson
James Elliott
Jansen Fischer
Jason Zapol
Justin Peachey
Karen Leisinger
Michael Kubiak
Mike Casino
Patrick Duncan
Rick Evans
Roger Burman
Ryan Koleno
Ryan Mathews
Scott Breneman
JB Boyer
Tim Molzen
Brad Smith
Dane Howell
Eli Walton
Joe Balesterri
Steve Marshall
Steve Eich
Zach Sawyer

See THE Full Muscle of the Mountain Driver RosteR
Event Sponsor
Viking Performance, Inc. specializes in high performance shock absorbers and struts, high travel coil-over springs, rod end and spherical bearings, and related items. Viking was founded in 2011 by owners with more than 50 years of hands-on experience in the racing and performance aftermarket. Viking components spend a lot of time winning at events across the USA.