Last weekend was the UMI's 2023 Autocross Challenge presented by Visit Clearfield County. With over 120 Drivers traveling to UMI Motorsports park to compete in our 7th annual Autocross Challenge (AXC). For several years this event has sold out within seconds of registration opening, and this year was no exception! The grid was packed as usual with awesome cars as well as familiar and new faces.
Friday, the first day of autocross, started off with a damp track from the Thursday night rain. However, as the track dried throughout the day, the speeds on the course began to pick up. Bangshift Chad Reynolds was there keeping the crowd engaged and informed as the event announcer. As the day drew to a close, the leader board showcased a mix of skilled UMIMP Veterans and enthusiastic newcomers.

Friday night had the usual festivities, a picnic and cornhole tournament at the new Finish Line Pavilion presented by A+ Powder Coaters. People enjoyed live music and great food, as well as an impromptu charity auction. Between the auction, a bake sale and a charity raffle, 13,000 dollars was raised over the weekend and donated to several different charitable causes, such as the Emily Whitehead Foundation, a charity that helps fight pediatric cancer. Donations were also made to aid in the medical expenses of a local 13-year-old, CJ Coudriet, fighting with rhabdomyosarcoma cancer.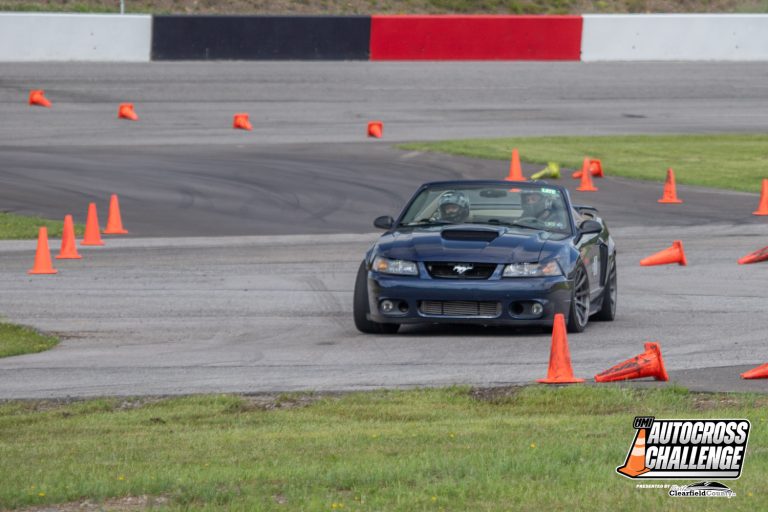 On Saturday, the second day of the event, the course expanded to include more of the recently paved sections of the track. With the weather cooperating beautifully, each driver had the opportunity to complete six runs. CJ Coudriet was able to join us and accompanied several drivers on some ride-alongs. A special thank-you goes out to all the racers and teams who warmly welcomed CJ and truly appreciated his presence.
In previous years, AXC would wrap up by combining the times from the two-day event. This year, a thrilling new twist was added to intensify the competition: an exhilarating shootout inspired by King of the Mountain (KOTM) for a spectacular grand finale! The top 6 racers from each class battled it out on the challenging Day 2 course, engaging in a high-stakes F1 knockout-style bracket. This new addition brought an extra level of intensity and excitement to the event that left everyone on the edge of their seats.
Autocross Challenge Winners
Early Model Class
1st – Brian Coney – 1969 Camaro
2nd – Brian Stephens – 1963 Nova
3rd -Don Chaffin – 1967 Camaro
Class Winner- Ron Scott Jr – 1963 Chevrolet
Mid Model Class
1st – JB Boyer – 1992 Corvette
2nd – Chris Smith – 1970 Camaro
3rd – Mike Trenkle – 1982 Mustang
Late Model Class
1st -Scott Baker – 2004 Rx8
2nd – Mike Casino – 2022 BRZ
3rd – Chris Jensen – 2004 Rx8
Class Winner – Jeff Gordon – 2007 Chevrolet
Super Late Model Class
1st – Eric Peachey – 2008 Viper
2nd – Steve Anstey – 2011 STI
3rd – Jason Zapol – 2001 Corvette
Top-ranking racers in each class, excluding those who have already been invited, received Golden Tickets for KOTM 5.0 presented by Airflow Research.
Early Model Class
Larry Wolfe – 1966 Ford Mustang.
Mid Model Class
Jansen Fischer – 1992 Corvette
Late Model Class
Scott Baker – 2004 Mazda Rx8
Super Late Model Class
Steve Boddintgon – 2003 Mitsubishi Lancer Evo
Charity Auction Winner
Beth Conaway – 2011 Chevrolet ZO6
Available to purchase
(high-resolution without logo)
The 2023 UMI Autocross Challenge, presented by Visit Clearfield County, was an absolute hit! We had an absolute blast, with loads of fun, jaw-dropping competition, great food, live music, and an intense corn-hole competition. What's even more incredible is that we were able to support not just one, but two deserving charities, as well as a dear friend. Get ready because we can't wait to welcome you back next year for the highly anticipated 8th Annual UMI Autocross. It's going to be an event you won't want to miss!
Explore the UMI Equipped cars at MOTM