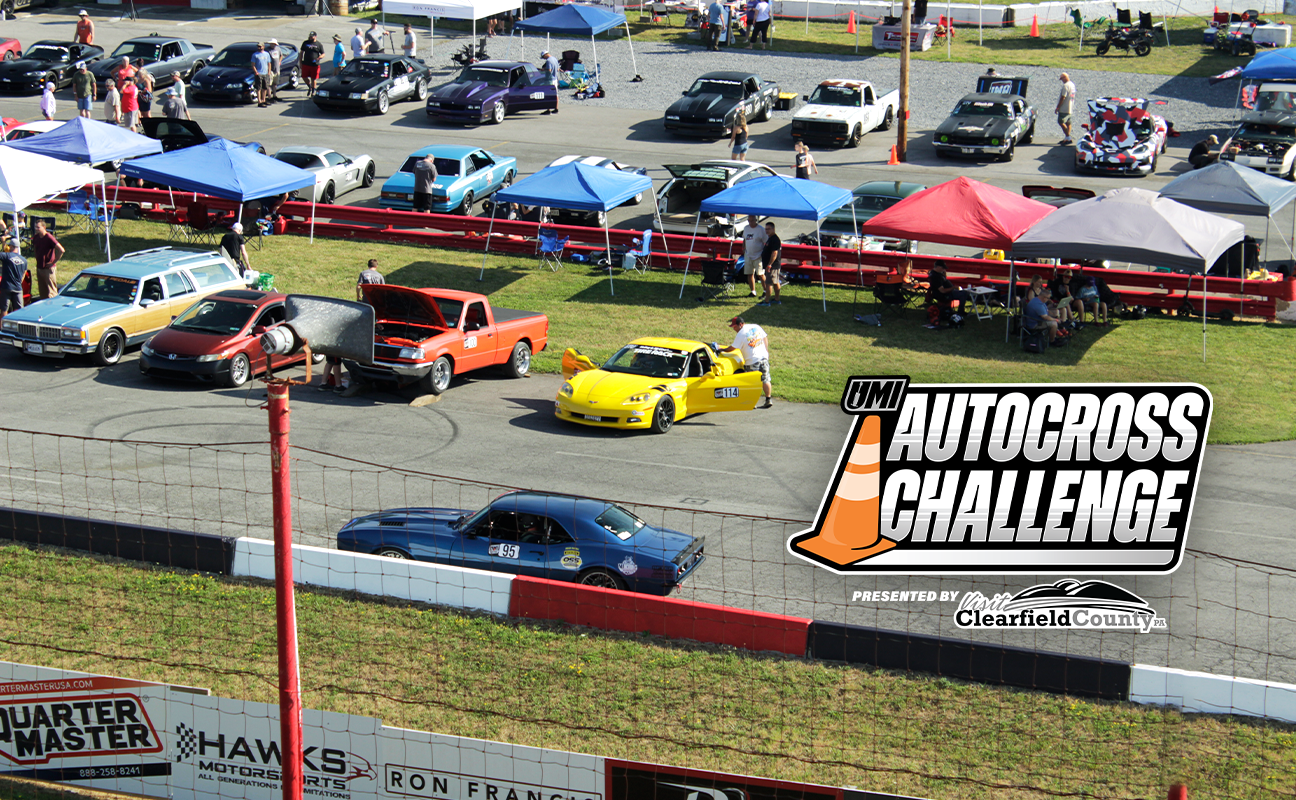 2023 Autocross Challenge Driver List
UMI Motorsports Park is happy to host the sixth annual Autocross Challenge. For two days drivers from all over the nation will compete in this thrilling autocross race. Champions of the four classes will win an invitation to the most sought after event in autocross, UMI's King of the mountain.
Autocross Challenge Driver's List
Angela Payne
Bill Graves Sr
Bob Bertelsen
Brad Dodd
Brian Coney
Brian Coyle
Brian Peacoe
Brian Stephens

Butch Szmodis
Chad Kucsan
Chris Rhinehart
Curt Schneck
Don Chaffin
Jared Roberts
Jason Winstel
Jeff Didonato

Joel Brady
Joesph Eichelman
John Aamold
Justin Nall
Ken Edwards
Larry Wolfe
Lou Jasper
Nick Barnett

Nick Weber
Paul Brimmeier
Ron Scott Jr
Sean Brinkley
Sheryl Nall
Steve Eich
Steve Rodgers


Andrew Ziolo
Bernie Duplan
Beth Conaway
Bob Liegey
Brent Brooks
Brian Malek
Brian Ziolo
Brian Ferree
Chris Jensen
Chris Mulberry
Chris Smith
Chuck Trimble

Cody Ferree
Dave Martin
David Pereira
David Redden
Derek Redden
Doug Lutes
Eric Hartman
Eric Hjelm
Eric Neumeier
Jason Smith
Jeff Scott II
John Norton

Joseph Cashin
Justin Groff
Kelley Jaeger
Ken Bateman
Logan Phillips
Michael Johnson
Michael Phelps
Mike Cunningham
Mike Goodman
Mike Trenkle
Mike Weiss
Rob Beck

Rob Tarrien
Ryan King
Scott Applegate
Scott Bowers
Scott Chaffin
Sean Rupp
JB Boyer
Steve Bove
Steve Marshall
Troy Dragovich
William Smith


AJ Knollman
Allan Stewart
Bill Kidd
Brian DeLuca
Chris Brown
Chris Rogers
Devon Whitman
Ed Cooney
Edward Brooks
Greg Nelis
Hunter Guyer

Jake Lee
James Moyer
Jared McGahen
Jason Rollison
Jeff Darbig
Jeff Gordon
Jim Miller
Joel Voigt
Johnny Dio
Joseph Schaefer

Josh Korsower
Josh Lester
Kenny Goodman
Kevin Winkie
Matt Welch
Mike Stewart
Mikey Albacete
Nick Shaffer
Nick Young
Pete Romkowski

RJ Paulus
Ron Eiford
Sharon South
Terry Prell
Tim Gordon
TJ Brillhart
Travis Meese
Travis Patterson
Zach Jasper
Zach Sawyer

C5-C8, AWD, mid-engine, etc.
Al DeRose
Andy Urbanski
Brad Long
Daniel Cook
Danielle Spora

David Myers
Eric Peachey
Gary Hatfield
Jansen Fischer
Jason Zapol

Justin Peachey
Kevin Galigher
Mike Casino
Mike Tomer
Rick Evans

Scott Breneman
Steve Anstey
Steve South
Steven Boddintgon

See Full Autocross CHallenge Driver RosteR
Event Sponsor
Visit Clearfield County is your number one resource for planning a trip to beautiful Clearfield County in central Pennsylvania, where UMI Motorsports Park is located. From their site, you can check out all the accommodations, cool attractions, local trails and all the local events planned throughout the year. If you're planning a trip to UMIMP, don't forget to check out other events going on in the area!