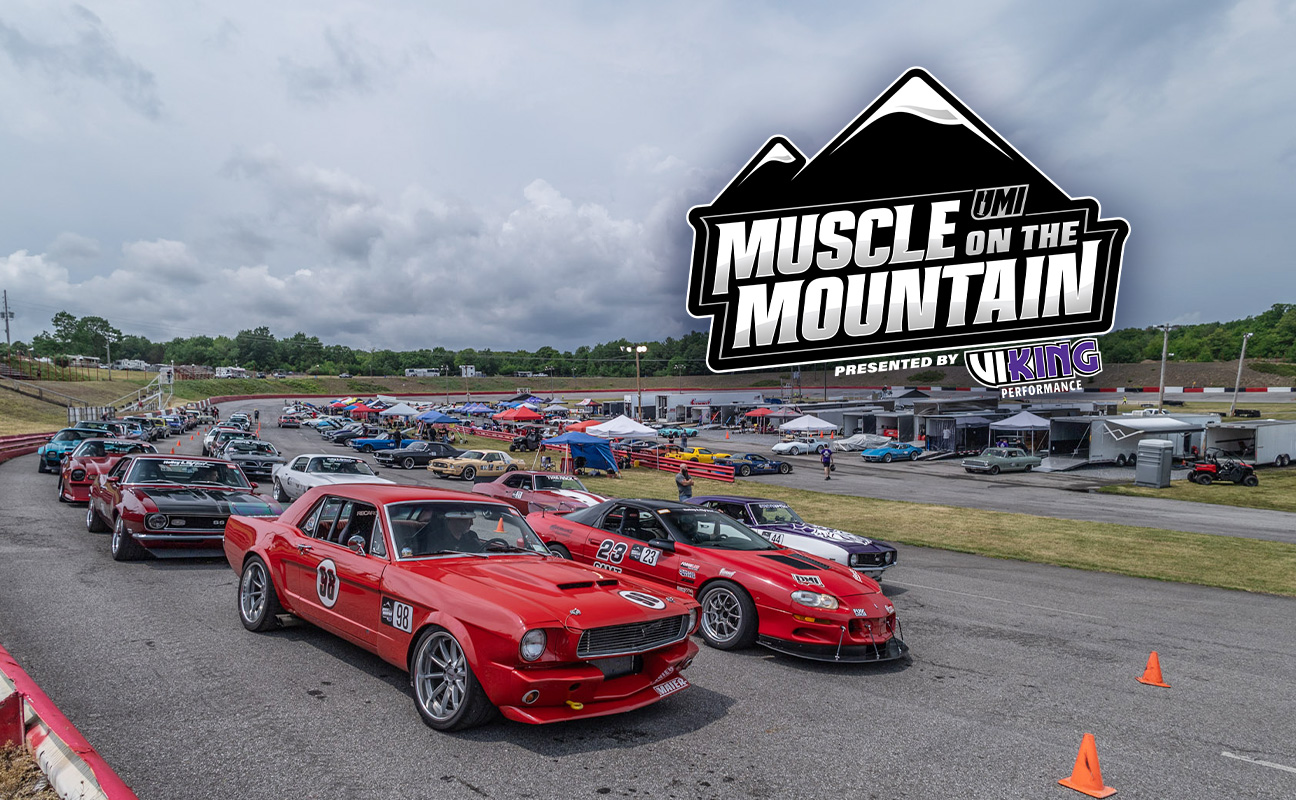 Muscle on the Mountain 2023
On the weekend of June 16th and 17th racers and their fans traveled to UMI Motorsports Park (UMIMP) for the brand new muscle car exclusive event, Muscle on the Mountain presented by Viking Performance.
This was our first event that utilized the track's newly paved infield areas, which allowed for more challenging course options. Every year we find ways to improve the park with new course options and/or better community areas. Not only did this event feature fresh pavement, but also the unveiling of our new outdoor kitchen Finish Line Pavilion, presented by A Plus Powder Coaters. As with many of our events, there was also a large charity component with competitors and friends raising over $6,000 for the Emily Whitehead Foundation, a charity that helps fight pediatric cancer.
Competitors opened up the 4-bbl's (and fuel injection) on the UMIMP infield roval and also enjoyed the 9-degree banking on the circle track oval. Most of the competitors are used to flat venues, so UMIMP is often a challenge for some drivers.
Over 120 drivers divided into 6 classes battled for two days to qualify in the Forgeline Shootout. For the shootout bracket, we implemented the F1 knockout-style qualifying format. The winners of the shootout received their portion of the $15,000 purse and an invitation to compete in the biggest night in autocross, UMI's King of the Mountain. 
Muscle on the Mountain Champions
Super Early Muscle Car Class
Sponsored by Van Steel Corvettes
1st- Josh Leisinger -64 Corvette
2nd- Jared Leisinger -64 Corvette
3rd- Ron Scott -63 Corvette
Early Muscle Car Class
Sponsored by Motorhead Digital
1st- Brandon Clemens -71 Camaro
2nd- Adam Schoonmaker -69 Camaro
3rd- Chris Wheatcraft -73 Camaro
Mid Muscle Car Class
Sponsored by Turn One
1st- JJ Mallrich -99 Camaro
2nd- Brian Clark -89 Mustang
3rd- Jordan Welch -98 Mustang
Late Muscle Car Class
Sponsored by Summit Racing Equipment
1st- Sam Strano -2021 Mustang Mach
2nd- Joel Voigt -2015 Camaro
3rd- Jeff Darbig -2022 Camaro

Super Late Muscle Car Class
Sponsored by Van Steel Corvettes
1st- Justin Peachey -2007 Corvette
2nd- Ryan Mathews -2002 Corvette
3rd- Garry Walsh -2004 Corvette

Muscle Truck Class
Sponsored by Level 7 Motorsports
1st- Zach Sawyer -2003 S10
2nd- Steve Eich -2000 S10
3rd- Dane Howell -1975 Luv
Available to purchase
(high-resolution without logo)
UMI's inaugural Muscle on the Mountain race was a fun-filled weekend! The muscle cars and trucks were impressive, and the competition was thrilling. 
Explore the UMI Equipped cars at MOTM