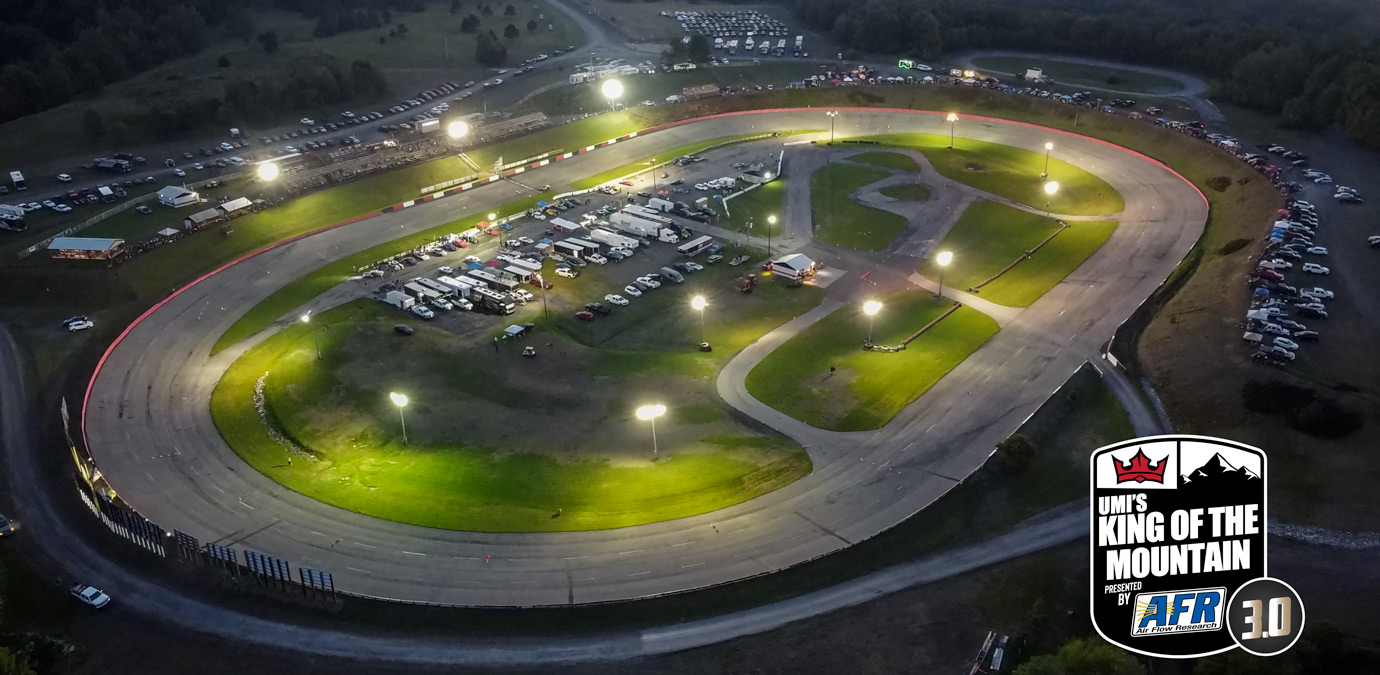 UMI's King of the Mountain 3.0 presented by Airflow Research was held at UMI Motorsports Park on August 26-28, 2021. One hundred twenty of the best autocross racers in the country pulled into the automotive equivalent of the Field of Dreams in Clearfield, PA to enjoy big horsepower, great handling and awesome family fun.
Two days of qualifying culminated in the Top-32 going head to head in single elimination format until only one King of the Mountain emerged. While the action on track was exciting, there was also plenty of excitement in the pits – in the form of great people doing great things for charity. This year, we once again supported the Emily Whitehead Foundation, whose goal is to find better therapies (and a cure) for pediatric leukemia. With the help of racers and fans in attendance supporting the very popular bake sale as well as donations by Viking Performance, London Auto Sales and Team Summit, the EWF raised over $9000 toward their mission. The second charity featured an event long raffle and impromptu auction to benefit Tina Heller, a friend and driving champion fighting melanoma. In  a shining example of paying it forward, Tina will be using the funds to support various pediatric cancer charities in the Akron, OH area. Tina's passion is helping kids, and even during her struggle she finds joy in doing so.
While we are talking about paying it forward, the amazing friends and racers selflessly donated baked goods, commemorative plaques and other various items to the cause. Dan Baker from Alumicraft Street Rod Grilles builds KOTM plaques free of charge, racers buy them and then Dan donates to the charities. Tim Beeler of Tim Beeler Designs sent a spectacular custom KOTM bracelet which nabbed over $500 and could become a tradition. These are just a few examples of the awesomeness that is our community. UMI will be sending a check for $7000 to the Tina Heller fund.
The 32-Car Finalists Bracket
A Plus Powder Coaters Early Model qualifying saw Josh Leisinger's Summit Racing Crusher II Corvette in P1 followed by Jamie Elliott in the James Elliott Roofing 'Vette. The class sponsor namesake Bob Bertelsen A+ Powder Coaters Green Mamba was next. Ron Scott was P4 in his beautiful '63 split window and then Chris Jacobs followed in the Ballard Grandma Nova. Jared Leisinger qualified P6 in the Summit Racing Confuzed Corvette followed by Nathan Johnson in his beautiful Speedtech '68 Camaro then finally Dan Ballard in the Grandma Nova.
The Speedway Motors Mid-Model class seems to be a favorite and for good reason. Christopher Jensen in the Safety3rd.racing RX7 rumbled his way to pole position much to the delight of the many Safety3rd fans in attendance. Ryan Mathews in the After Dark Speed C4 qualified P2 followed by Bob Armstrong in his Airflow Research equipped Red Rocket. Brian Fast Finch drove from TN (no trailer!) to qualify P4. Class sponsor Robby Unser reached his third KOTM shootout in a row by qualifying P5. Victory Fabrication owner Cody Puckett was having a blast at an oval track and qualified P6. Mike Trenkle in his world class carbon widebody Fox achieved P7 followed by Vice President of Camping Operations Showtime JB Boyer.
Ron Francis Wiring Late Model was an incredible class this year and featured a who's who of heavy hitters. Sam Strano of track sponsor Strano Parts took pole position in the incredible Vitamvas RX-8. Sam was followed closely by Robert Thorne in the intimidating Big Bad Wolf and then John V in his own car. Andy Smedegard, KOTM 2.0 champion, took P4 in SuperK and then came Josh Lipman in his subdued looking BMW M3. Great driving dude. P6 saw James Vital in his LS swapped 240SX then fan favorite Jeremy McCauley, last year's runner-up, just behind in P7. Finishing out the class Top-8 was Joel Voigt in his awesome 2015 Z28.
Super Late Model Champion
Trackspec Motorsports Super Late showed why they're the big boys. Qualifying saw pro driving coach Tom O'Gorman pilot his Acura Loaner NSX to pole position. Tom brought this factory hypercar and certainly didn't disappoint. P2 in Super saw perennial favorite Brandon Ranvek just 0.3 behind Tomo. Multi-time UMIMP winner Justin Peachey qualified P3 in his workhorse C6 with KOTM 1.0 winner Jeremy Swenson on his heels in P4. Brian Peters grabbed P5 in his daily driver, yes, daily driver Tesla and P6 went to Mike Casino behind the wheel of the Peachey 'Vette. The P7 qualifying slot was filled by the Professor, Paul Curley and finally P8 by first time UMIMP guest Mr Sideways Ian Stewart.
The Greatest Show in Autocross aka the King of the Mountain $25,001 Shootout was once again one for the ages. At both KOTM 1.0 and 2.0 the backstories, tension and excitement was incredible and it happened again at 3.0.
The shootout started with the UMI '99 Camaro, complete with Pace Performance LS3 Crate Engine power, leading the four wide salute to the fans. A sold out hill, packed stands and packed Brackman Chevrolet VIP area enjoyed seeing the Top-32 autocross cars in the country rumbling around the 0.519 mi paved oval. Guest of honor in the pace car was none other than the courageous Danny Popp. We wish you well buddy. 
In A Plus Powder Coaters Early Model Josh Leisinger, Jared Leisinger, Chris Jacobs and Nathan Johnson prevailed over Dan Ballard, Bob Bertelsen, Ron Scott and Jamie Elliott. The Leisinger brothers timed it just right, or just wrong, to face each other in the round of 4 with Josh moving on. In the second Round of 4 pairing, Chris Jacobs moved past Nathan Johnson. The Early finale saw Jacobs run a strong time but coned and Josh Leisinger ran a strong time clean for Leisinger to become the A Plus Powder Coaters Early Model Champion.
The Speedway Motors Mid-Model Shootout wasn't short on action. Jensen, Puckett, Unser and Mathews ran strong to move past Showtime JB Boyer, Bob Armstrong, Brian Finch and Mike Trenkle. Jensen and Puckett went head to head in the Round of 4 with Jensen narrowly defeating the very tough Cody Puckett. Robby Unser and Ryan Mathews duked it out with Unser taking the 2nd Round of 4. Unser and Jensen faced off in the Speedway Motors Mid-Model final with Jensen moving on by a split second to become the division champion
Ron Francis Wiring Late Model proved very entertaining for the sold out crowd. Polesitter Sam Strano of Strano Parts along with co-driver John Vitamvas, KOTM 2.0 Champ Andy Smedegard and some guy named Robert Thorne moved past Round 1 by defeating Joel Voigt, James Vital, Josh Lipman and Jeremy McCauley. Strano met good friend and car owner Vitamvas in the next round and nipped him to move on. The other pairing was Thorne and Smedegard. This time Smedegard went out, ending his chance of a repeat but with nothing to regret. Thorne and Strano met in the Ron Francis Wiring Late Model final with Strano throwing a Hail Mary and nipping a cone. Thorne ran a good number to become Late Model Champ.
Trackspec Motorsports Super Late was a Clash of the Titans. Tom O'Gorman, Mike Casino, Brian Peters and Brandon Ranvek met Ian Stewart, Justin Peachey, KOTM 1.0 champ Jeremy Swenson and Paul Curley with Tomo, Casino, Peters and Ranvek moving on. Tomo and a very focused Mike Casino met in the Round of 4 with the Tomo NSX moving on yet again. Peters and Ranvek also met in the Round of 4 with Brian Peters moving on. When you get to this level of driving we can tell you from the booth it is intense! O'Gorman and Peters met for the Trackspec Super Late final and we saw Tomo pull it off by the slimmest of margins time wise and a cone from Peters. Tomo becomes the Super Late champ.
KOTM competition this year once again pitted early cars vs late model cars to populate the grand finale. The early shootout was one of those surreal moments where awesome team met awesome team and we truly weren't sure who was going to prevail. Josh Leisinger from Team Summit toed the line with Safety3rd.racing's hero driver Christopher Jensen. Leisinger drove with thundering precision and ran an awesome number while Jensen went full send with his usual exciting style. Jensen prevailed and the crowd went nuts.
The late model part of the ladder featured two of the best drivers in the country. Tom O'Gorman and Robert Thorne going head to head would be an autocross highlight anywhere at any time. The full Brackman Chevrolet VIP area, UMIMP grandstand and tailgate hill was on the edge of their seats. Tomo went full send and ran a good number but hit his first cone of the weekend in the ultra precise Acura. Thorne ran a glory lap and moved on to the grand finale.
We mentioned emotion earlier in the write up and this is a perfect example. Unlikely hero Christopher Jensen pulled up to the line in his plywood aero Tetanus Missile to run the most important run of his life. His Safety3rd teammates lined pit wall and crossed their fingers. They had just got done supporting charities and racing hard all weekend and their boy was on the biggest stage in autocross. Jensen ran strong through the 1st half of the UMIMP shootout course then ended up into a cone wall thus ending his emotional run. Thorne wasn't done though. He still had to run a good number. The twenty hour drive from Oklahoma had to be on his mind as was the support of his unofficial ASMotorsports teammates lining pit wall. Thorne ran strong and clean to become the 3rd winner of UMI's King of the Mountain. After a quick weigh in (he passed!) Robert Thorne grabbed the checkered flag and enjoyed a fireworks filled victory lap. After handing the flag to a UMI official, Robert lit 'em up in what has been a great victory burnout tradition. Congratulations Robert and thank you to everyone who made KOTM 3.0 the Greatest Show in Autocross.
Special thanks to all our event sponsors for making this event possible!